YOU CAN PLAN YOUR TRAVEL HERE: https://www.omio.co.uk/travel/poznan

ACCESS BY AIRPLANE
Poznań Ławica airport is located just 5 km from the Conference Center and 7 km from the city center. Transportation from the airport to the Conference Center is offered by public bus No. 59.
It departs from the airport every 15 min. The trip to the vicinity of the Conference Center takes just 14 min. At night bus No. 242 takes the same route every 30 min.
Fare (40 min. ticket): 4.60 zł (EUR 1.2).
A trip by taxi to the Conference Center or hotel will cost approximately 20 zł (EUR 5).
The Poznań airport offers a number of connections to the European hubs every day (Lufthansa to Frankfurt and Munich, LOT to Warsaw and SAS to Copenhagen). Additionally it is served by several low-cost airlines (Ryanair, Wizzair) providing connections with numerous airports all over Europe.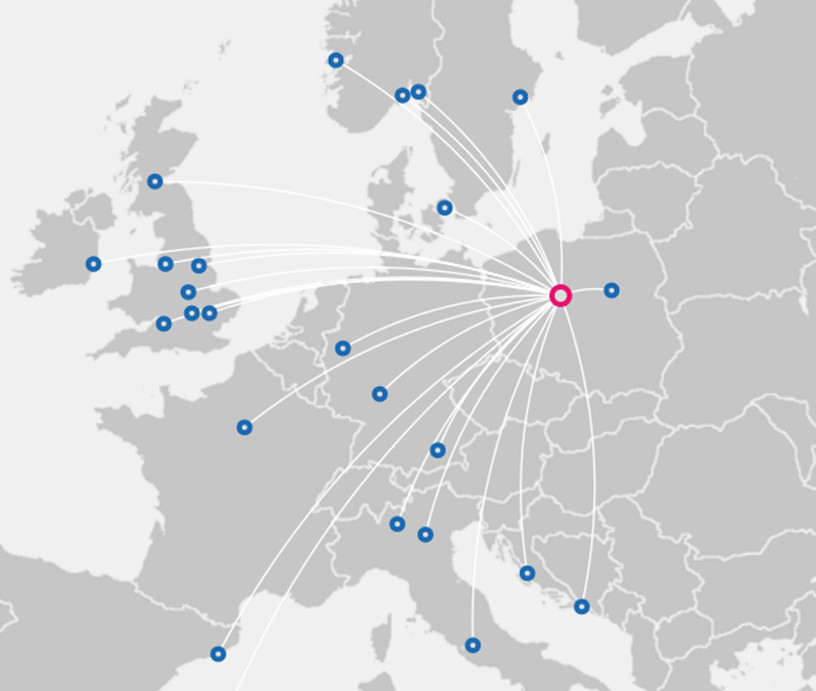 ACCESS BY TRAIN
Poznan is an important rail hub with trains arriving from all over Poland and abroad. The journey to Berlin or Warsaw takes less than 3 hours.
Intercity trains connections to Warsaw are scheduled basically every hour. Intercity trains to Berlin – every 2 or 3 hours.
All trains stop at the centrally-located Poznan Główny Main Station, from where it is easy to reach every district of the city. Passengers can get to the city by tram or bus - the nearest tram stop is next to the West Railway Station. Trams no. 5, 8, 14 and 18 leave the stop. In the vicinity of the Main Hall exit there is a municipal bus stop for lines 51, 59, 68 and 76. At night, also night buses approach the stop. To get to the tram stop, passengers should use stairs or a lift leading to the Railway Bridge (Most Dworcowy). There, passengers can use trams no. 6, 10, 11 and 12.
TAXI ranks are located next to the Main Hall and the West Railway Station exit. It is advisable, however, to call RADIO TAXI in a point located in the Main Hall.
The easiest way to access the Conference Center from the railway station is the bus No. 59 leaving from the Station Square for the Airport every 15 min. The bus ride to the bus stop Polna/Szpital takes 8 min. From the stop you need to walk 5 minutes to the Conference Center building. Fare (10 min ticket): 3.00 zł (0.8 EUR).
ACCESS BY CAR
Situated exactly half-way between Berlin and Warsaw, Poznan lies at the crossroads of national and international routes. Poznan can be accessed from the A2 motorway or national roads – the 92 (east-west) and the 5 and 11 roads (north-south).
The main east-west A2 motorway runs south of the city connecting it with Berlin in the west and Łódź and Warsaw in the east. Other main roads run in the direction of Gdańsk, Katowice and Wrocław.